496 Words
Earth as we know it, made its journey like no one else could. It has sustained us for billion years and is bearing us still. It has unconditionally given us its resources; without a cost.
We have made earth the way we wanted it to be but we never kept it the way it was given to us. Are we happy in the earth we live? What if you were given a chance to alter earth? How would you want it to be? If I were given a chance to dream earth, I would never have changed it. Roads would never be built up; greenery would flourish everywhere. I would acquaint animals and enjoy their company. The word pollution would never exist in the dictionary of earth. I would not mind living in a nomadic way. Only fire would be enough for me to aid my daily needs. Trees would be held in a majestic way. I would never cut them down. Why would I cut down the providers of oxygen? I am not a fool to reduce the providers of my sustenance. I would live in a house made of fallen trees.
When earth is providing me air to breath, water to drink, fruits to eat and trees for shade, I would not greed for more. Greed and wrath never bought good to anyone, it only bought useless yearn which held no value.
Think of earth in that way; there would be peace all around. No brothers would fight for money, there would not be a rage for acquisition. The meaning of life would be simple; to enjoy life by consuming what earth provide and not by making earth a grieving globe.
I am not mocking the advancements people has made, but are those so and so developments worth it? Is destroying earth day by day the solution to all our problems? I think not. It is making us more medieval. We have lost our way in the midst of getting better. In a latter perspective, if I wanted development; I would develop it in a moderate way. Only necessary things needed would be developed, keeping in mind of earth's health. I would not make earth sick because of my selfish needs, because we don't know that we are a small part of something great, something which is beyond our imagination.
The very reason we were made existent in this earth is to understand one another and experience love. But now we are more worried about unwanted things. Let us get awake consciously. Let us dream earth the way we wanted it to be in the first place. Let us not dwell upon the mistakes done by others and neglect the important things. Let us dream because it is never too late for anything. We can make earth healthier again, happier again, resourceful again and better again. Earth of my dream would be a happier place. A place where love would be abundant and free.
We all wish to go on vacation and enjoy some time, it is something many of us look forward all year. I have traveled to some of the most beautiful places in India, but my dream of having a holiday with my family to Switzerland still remains my biggest dream. As Switzerland is one of the most attractive vacation destinations today in the world because of its lakes, beautiful mountain ranges, snowfall and many interesting places that make it a perfect tourist attraction.
Why is Switzerland different and my dream destination? It may come as a surprise to many that how a small country like Switzerland is one of the biggest tourist attraction on the earth. Located on the continent of Europe. Although known for its unique and economic banking system, its is more famous for its numerous lakes, villages and the high peaks of the Alps.
The capital of Switzerland is Zurich. The country is uniquely known for its Ski resorts and hiking trail so hikers have no cause for alarm. In fact, it is regarded as one of the biggest cities in the world because of its modern outlook, quite busy and business oriented. Its cities contain medieval quarter with landmarks such as capital Bern's zytyglogge clock tower and Lucerne's wooden chapel bridge.
Tourism
In terms of tourism, Switzerland boast of over 1500 lakes which, high mountain peaks most of which are covered with snow that makes it even more attractive and the breathtaking sceneries will make you fall in love with this beautiful place. The "Jungfraujoch" mountain peak known as "Rooftop of Europe" is one of the most famous peaks in the world.
Some of the most beautiful tourist attractions in Switzerland are:
• Mount Pilatus: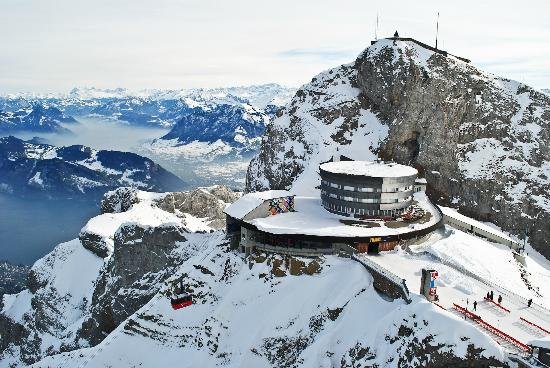 Image Source
Mount Pilatus is extremely popular for hiking and one can take the steep cogwheel train in the world up to near the peak. There is also a gondola and cable car going to the same place.
• Swiss National Park:



Image Source
A 169 square kilometers of mountains and woodlands. It's home to a variety of wildlife such as large red deer, Chamois, Ibexes, and Marmots.
• The Matterhorn, Zermatt:
The The Matterhorn is one of the most famous peaks in the Alps, the Matterhorn in Zermatt stands 4,478 meters high and offer skiing and beautiful landscape views. Its pyramidal shape makes this place even more beautiful and stunning.
• St. Moritz:
A water resort which offers Skiing and a variety of summer and winter sports as well as mud and mineral baths, mud therapies is one of the world's most famous holiday resort. The town is known for its expensive nightlife.
• The Rhine falls: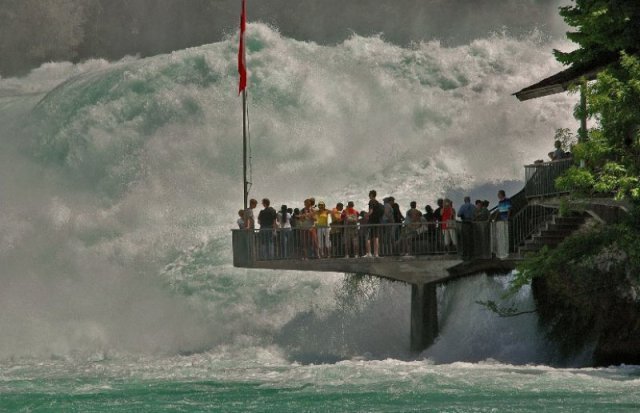 Image Source
Situated near the town of Schaffhausen, Europe largest waterfall is a magnificent site to behold. On Swiss National Day, August 1, the Rhine fall is host to a fantastic display of fireworks which attracts thousands of tourists every year.
Another amazing fact about this country is that, in terms of Security, Switzerland has one of the lowest crime rates amongst all the industrialized countries in the world and if you are fond of eating, this country will not let you down either. Varieties of basic food items include a huge selection of bread (white, whole wheat etc.), dairy products such as milk, yogurt, butter and - of course - a great variety of the world famous Swiss cheese. Also important are vegetables including beans, carrots, cauliflower, potatoes, spinach etc. Sausages and meat - mainly veal, beef, pork, chicken or turkey. Another notable thing the Swiss are known for is their love for chocolates. So chocolate addicts would have a swell time over there.
All these beautiful things make Switzerland one of the most beautiful places on earth and a dream destination for many not only me.