George G Gilman Bibliography Website
EDGE: The Loner by George G. Gilman
Pinnacle Books, Copyright 1971

"He was now a killer of the worst kind. A man alone."

I've had a few EDGE books collecting dust for years, and I never picked one up. It seemed I always passed them up to read another western. I finally forced myself to read the first in the series, created and authored by British writer Terry Harknett under the pen name George G. Gilman. I found it enjoyable enough, even with it's violence and cruelty, though I'll most likely not become a big fan of the series.

This story introduces the reader to Edge, Josiah (Joe) Hedges just back from the Civil War, who finds his little brother viciously murdered on the Iowa ranch. He knows immediately who mutilated and killed his brother and sets out to seek vengeance in his own special way. We go chapter after chapter with him on his quest, and along the way Edge lets no obstacles stop him. After leaving behind a trail of blood and butchered bodies, he finds the men responsible for his brother's murder and ... well you can guess how he settles the score.

Of course this is not your typical western; it is in your face, harsh, and goes down like snake venom. Wherever Edge goes, brutality and destruction follows. The first couple of chapters, which deal with the torture and murder of Edge's brother, are really good and surely hold your interest. The following chapters leading up to the final showdown, have Edge traveling and running into continual encounters with unmoral people, and he sets them straight. If Gilman was trying to get the reader to like Joe Hedges, it didn't come across. (he may of wanted it that way)

Edge is a western nihilist, who carries a neat assortment of weapons, including a honed razor knife concealed in his shirt collar which when used provides the most horrific occurrences in the story.

...the knife buried itself into the back of his throat. He gagged on blood and steel and his teeth clanged down on to the blade. His only sound was a gurgling, but his eyes blurred by tears, reveal the full extent of the pain. Then the stock of the Henry completed his execution, cracking against his forehead, splitting the skin and laying the flesh open to the bone.
"You don't fool around," the girl said.
"Now he knows it, too,"Edge said.

The story is not complex and it is a quick read. To me, each chapter is actually a story in itself, containing its own amount of gore and violence. I found I like it best when I read a chapter, then later picking it up to read another chapter -like reading a book of stories. The western setting descriptions are weak, but that's not what George Gilman was slamming into the reader. I can see why there is a following for the series, it can be attractive to readers with it's raw violence, vengeful plots, and a touch of humor thrown in. I'm sure I'll read a few more, but I know I'll never tackle the complete series. Not for the all western fans, I'll take mine in small doses.
| | | | | |
| --- | --- | --- | --- | --- |
| | | | | |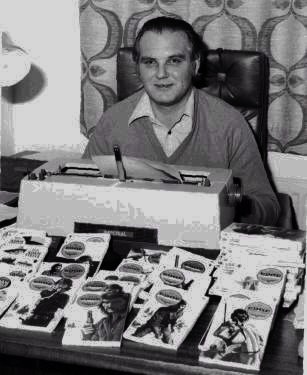 George G. Gilman -- a pseudonym created and used by the near-legendary Terry Harknett -- is so well-known to western readers that he hardly needs any introduction from me. Arguably the most influential British western writer of the last 40 years, his tough, graphic, wise-cracking westerns are still in demand, even though almost twenty years have now passed since the last one was published.Terence William Harknett was born in Rainham, Essex, on 14 December 1936. Although his earliest ambition was to become a car mechanic, he changed his mind upon leaving Rainham Secondary Modern School in 1951, and chose instead to pursue a career as a reporter. He went to work as a copy boy at Reuters News Agency, and later became a typist at Reuters Comtelburo. It was here, whilst on night duty in 1953, that he wrote and sold his first short story, a romance entitled Katie's Birthday.

Although he had no particular interest in the western apart from a very general impression of the form culled from the western movies he'd seen, his first western short story, Guns at the Silver Horseshoe, appeared in the 14 January 1955 issue of Reveille. In 1955 he was called up for National Service, and served in the Royal Air Force until 1957, when he returned to civilian life and went to work as a publicity assistant at the British office of Twentieth Century Fox. He married Jane Harman in 1960, and became a reporter and features editor for National Newsagent, a weekly book trade magazine, in 1961.Raymond Chandler had been an early influence on Harknett, and after selling some two dozen short stories to a variety of publications, he finally published his first full length novel, a thriller called The Benevolent Blackmailer, in 1962. Over the next decade he wrote a further eight of these "Stephen Wayne" mysteries. In his capacity as features editor for National Newsagent, he also interviewed Louis L'Amour in 1969.

Terry's first western novel was an adaption of the film A Town Called Bastard (1971), which was published under the pseudonym "William Terry". Similar novalisations followed. With A Fistful of Dollars (1972), published under the pseudonym "Frank Chandler", he produced a neat, imaginative adapation which successfully transferred to the printed page the stark images of heat, dust and sudden death that were so much a part of the spaghetti western. He completed two other novalisations again as William Terry -- Hannie Caulder and Red Sun (both 1972) -- before Laurence James, then a senior editor at New English Library, commissioned him to plot and write the first four books in an original western series. "I wasn't a western fan," Terry later revealed to Steve Holland. "I'd read every mystery I could lay my hands on, and when they suggested I write a western, I said 'I can't do that,' and they just said 'Of course you can, you've written novelizations, you've seen them on television and you've been to the movies.'"It's quite an easy world to get into, because everyone knows what it looks like. The only thing you have to be careful of is to get your guns right: if you get your guns wrong you get in terrible trouble. Over the years, I went out and bought a few books on guns and real-life characters and what towns really looked like, to see if they really were like they are in the movies. Now I suppose I've got a couple of hundred books on westerns, but I researched as I went along; if I needed to know a fact, I went out and bought a book for it, but I never wrapped myself up in westerns. When the Edges started to be successful, I didn't go to see westerns -- I didn't even watch them on the television, because I was terrified I would unconsciously copy them. Being totally ignorant on the West when I started, I was very aware that I could so easily, on a rainy Monday morning when the mind was totally blank, rip-off something I'd seen on telly the night before. In fact, now that I haven't written westerns for 8 or 9 years, they're the only films I watch." It was about this same time that Harknett -- now living in Chestfield, Kent -- turned to writing full-time.

In the opening story, The Loner (1972), written under the name "George G Gilman", the central character, Edge, is established in no uncertain terms. A veteran of the Civil War with fifty-six kills to his credit, Edge is a six foot three inch Mexican-Swedish halfbreed whose armory includes a vicious, bone-handled razor with which he is capable of performing any number of graphic disfigurements. The book opens when Edge -- formerly Captain Josiah C Hedges until a terrified Mexican mispronounces his name -- returns home from the war to find that his crippled brother has been tortured and killed by his former companions, and their farm razed to the ground. What follows is essentially a revenge/justice story based upon a formula to which most of the subsequent books would adhere: a series of violent set-pieces shockingly presented within the framework of a basic, generally off-beat premise, with a humorous punchline forming the ending to each of the twelve to eighteen chapters.

Edge really was, as the cover copy promised, "a new kind of western hero." He was violent, anti-social and chauvenistic, and only survived in his harsh, Spaghetti-western style environment by being twice as mean as his opponents.

Terry followed The Loner with another twist-in-the-tale story in which Edge sets out to track down Ten Thousand Dollars, American (1972); but it was only with the town-under-siege adventure Apache Death (1972) that he demonstrated just how strong his grasp of the ultra-violent western sub-genre really was.

With the fourth book in the series, Killer's Breed (1972), Terry embarked upon a sequence of stories in which Edge's Civil War experiences were related in flashback. The seven books in the Civil War sequence rank as some of Harknett's best work in any category, nowhere more so than in The Blue, the Grey and the Red (1973), with its potent images of life -- and death -- in the Andersonville prisoner-of-war camp.

Writing from nine to five, five days a week, Terry could produce a western in eleven days. Later, when the Gilman books became longer, the writing time increased slightly.

The success of Edge led him to create a companion series featuring a shorter, greyer and somewhat milder (though no less murderous) anti-hero. Adam Steele's life, as that of his forerunner, is changed dramatically and forever at the end of the War. In The Violent Peace (1974) he embarks upon a vengeance hunt when his father, wrongly suspected of being a rebel sympathiser, is lynched in the aftermath of President Lincoln's assassination. In the process he's forced to kill his best friend, a marshal, and in turn becomes a wanted man himself. The story was based upon an unfilmed screenplay that Harknett wrote for a producer who had been unable to buy the movie rights to the Edge series.

The author also created two other western series during this period. As "Charles R Pike" he wrote the first three stories in the Jubal Cade series and, with Laurence James (writing as "William M James"), he produced the Apache saga for Pinnacle Books. In both cases he elected to rework the revenge motif. Both central characters embark upon a vengeance-quest following, in both cases, the murder of their wives.

By this time, of course, Terry had developed a strong interest in the genre and built up an impressive library of research material. But his style remained as visual as ever and he was often capable of some striking imagery.

By the mid-1970s, his writing commitments had extended beyond the western genre. He wrote an Executioner-style series as "Joseph Hedges" and a police series set in Hong Kong under his own name. Thus, when Mayflower Books decided to continue the adventures of Jubal Cade beyond the third story, Harknett turned the series over to Angus Wells, who wrote all but one of the remaining entries. Later, Terry also finished his association with the Apache series with his seventh entry, The Best Man (1979), in order to concentrate more on his work as George G Gilman. Edge remained his most enduring character, with each new adventure selling about 250,000 copies (as against the still-respectable 100,000 copies New English Library could expect for each new Adam Steele story)..

In the early 1980s, Terry launched his third and final series under the Gilman name. The central character, Barnaby Gold, a.k.a. The Undertaker, makes his first appearance in Black as Death (1980), when he kills the rancher who murdered his libidinous wife. In subsequent books, he finds himself hunted by relatives of the deceased, who constantly frustrate his plans to leave the United States for Europe. Gold appeared in six books altogether, and made a fleeting appearance in the final, ultra-rare Edge novel, The Rifle (1989).

While the end of the British western boom signalled the demise of so many rival series, Edge and Adam Steele remained very much in demand. In 1981 the books grew longer, and allowed the author to spend more time on character and plot development. By the late 1980s, however, sales for both series had declined to around 10,000 per book. To make matters worse, Terry's American publisher, Pinnacle Books, had gone bankrupt in such a way that it tied up US rights and made it impossible to place them anywhere else. Against the wishes of his British publisher, Terry finally decided that the time had come, as he put it, "to throw in the towel."

He continues, "I know it sounds pretentious, but once you get into a book at that level the characters do take over; if it's a strong enough character, it does take you over. While you're actually sitting there doing the thing for eight hours a day or whatever, he goes where he wants to go and develops how he wants to develop. When it ceased to happen, that was when I decided to give up; it happened, I suppose, ten books before I actually finished, but I was getting tired of it and obviously, although he takes over it, you've got to have a little creative grain happening inside you, but when you've done 60 books on one character, again you're warying of copying from movies and TV series, of recycling something, and it happened at the same time as the western was dying a death anyway, and it all came together for me really. I don't think there was any way I could have gone on much longer, even if I had chosen to. The public wouldn't buy them any more."

After writing some 130 westerns in seventeen years, Terry took a year off. In the 1990s he returned to the genre, writing mostly for his own entertainment, but with neither plans nor hopes for publication.

In their time, Terry Harknett's western novels have been called sensationalist and satirical, parodies and pastiches. There is some doubt as to whether or not they should even be called westerns. But of course they are westerns. It may be true that the humour in Terry's work can as easily make a scene as break it. As much as we might hate to admit it, the graphic and sometimes downright gratuitous brutality, particularly of the earlier books, may well appeal to the voyeur in us. Notwithstanding, although Terry himself claimed to have been too busy meeting deadlines to consider such matters as style and development, in truth his books are probably all of the above, for it is generally the cleverest forms of art that work on so many different levels.